Leaked photo reveals what's coming for T-Mobile customers
This article contains unofficial information.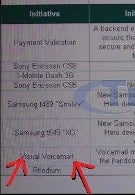 A leaked photo of what appears to be a training schedule for T-Mobile reps tells us what customers of the 4th largest U.S. carrier can look forward to in the months ahead. On July 16th, it looks like T-Mobile will be joining AT&T and Verizon by adding Visual VoiceMail. We'd love to tell you which devices will have this feature available or the price, but we can't, because the info was not on the leaked document. What we can tell is that based on the information, the Sony Ericsson CS8 slider will be offered June 24th as we previously
reported.
The device is expected to be identical to the C905, equipped with an 8.1MP camera with Xenon flash. On July 1st, we anticipate the release of the T-Mobile Dash 3G follow-up which is also known as the Snap or the S522. The schedule confirms our recent
story
about which carrier is getting the device. It looks like the carrier will be launching launching the HTC Rhodium/Touch Pro2 July 22nd. Just a few days ago we
told you
to expect the handset to head to T-Mobile thanks to the info we gleaned from the devices' trip to the FCC. The document also lists the Samsung T469 Smiley and Samsung T549 XO, both expected to hit the shelves July 15th. No pricing on any of the handsets was discussed though. If you're a T-Mobile customer, we can't blame you for having trouble getting to sleep tonight with all this cellular goodness heading your way.
source:
TmoNews
Sony Ericsson CS8 Specifications
HTC Snap Specifications
|
Hands-on
HTC Touch Pro2 Preliminary Specifications