Leaked memo alludes to the cancellation of Sprint's early upgrade program come June 1st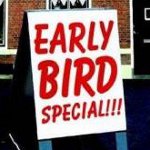 Call it hard times or whatever, but there's one Sprint policy that's looking to being given its pink slip in the very near future – and with this policy, it's something regarded as a beneficial thing for customers in general.
If things all pan out according to this
new leaked memo
, it seems as though Sprint's policy on allowing customers to upgrade their phone early by
10 to 14 days
prior to their official date of eligibility, will be no more come
June 1st
. As the memo so kindly details, it's due to "
high costs
" that's forcing the number three domestic wireless carrier to end its beloved policy on allowing customers to move into a new device earlier than expected.
Of course, we can guess as to the culprits surrounding all of this, such as the cost of having the
iPhone on the Now Network
, or possibly the hefty tally that Sprint invested in building up its still nowhere to be found LTE network. Then again, there are probably some Sprint customers who never even knew about this policy in the first place – so yeah, it's not much of a loss in that aspect.
source:
Technobuffalo