Leaked images reveal that simplified billing will be T-Mobile's UN-Carrier 5.0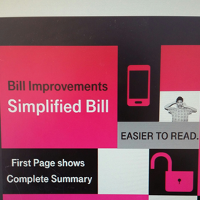 John Legere, the CEO of T-Mobile, will announce the carrier's latest pro-consumer initiative tomorrow. There is speculation that the carrier will introduce a simplified pricing structure that rolls everything into one bottom-line price, including taxes and regulatory fees. Also rumored to be getting axed is the whole prorated billing issue that confuses many customers. It will all be known as UN-Carrier 5.0.
These prorated fees usually appear on your first bill and include the period of time between the activation of the account, and the beginning of your regular billing cycle. The charge usually upsets account holders, most of whom can't seem to understand how the whole thing works.
If the speculation turns out to be legit, T-Mobile will no longer include the prorated period in a customer's first bill. Instead, the initial invoice received by a new T-Mobile customer will cover one month, and one month only. For those who remember the yelling and screaming when they received their first bill from a wireless carrier, this is good news indeed.
In addition, a new T-Mobile customer's first bill should now include his first installment charge for any purchased hardware. Currently, a new T-Mobile customer might not be billed for his new phone until he gets his third monthly bill. That could leave a T-Mobile customer thinking that he is three months closer to paying off his phone than he really is.
Leaked images below show that T-Mobile will introduce tomorrow, a simplified bill with no prorated charges. Other features will include EIP billing starting from the first bill, and the use of up and down arrows to show monthly changes in voice and data usage.
source:
TmoNews