Leaked Sony Xperia Z4 chassis suggests an even thinner device without a microSD slot
99+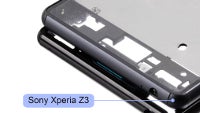 Back in November, we were tipped with
a bunch of snaps supposedly showing us the LCD touch digitizer
(images below) of the still mysterious Xperia Z4, which Sony has obviously pushed back, going against its policy of biannual flagship releases. Ever since then, we've been keeping track of the source that produced the meaty images,
FutureSupplier
, and our patience and persistence seems to have paid off, for we're now treated to a bunch of photos apparently showing us the Xperia Z4's chassis.
This time around, however, we can glean far more information about the Xperia Z4 design and possible features (or lack thereof). For starters, the folks at
FutureSupplier
have compared the alleged Z4 chassis next to that of the Z3, and have found that it is about 0.04 inches (1 mm) thinner, putting its depth at something like 0.25 in (6.3 mm). That would make the Z4 thinner than both the iPhone 6 and the Galaxy S6/S6 edge.
But the reduction in thickness might come at a price – from what we're told and shown, it appears possible (but unlikely) that Sony has ditched waterproofing – a highlight feature of its product line – for the microUSB port has been moved to the bottom and is no longer protected by the customary flap the company has so far utilized. That said, do keep in mind that it is possible to waterproof a microUSB port without using a flap. Furthermore, there appears to be no slot for a microSD card, which could mean that Sony will be mirroring Samsung's approach with the S6/S6 edge. The only other spotted difference had to do with the top microphone's placement – it might no longer reside right next to the audio jack and instead occupy the opposite side of the frame on the top.
Check the photos out: