Leaked One A9 training materials show HTC expected the 'Apple copycat' attacks
74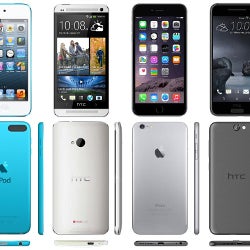 HTC might have anticipated iPhone copycat attacks with the launch of the
One A9
, and has produced the first slide you see below to be tucked in internal training materials. On it, Xiaomi's VP Hugo Barra is cited as saying that the
iPhone 6
brings a whiff of HTC design. This happened while Xiaomi was accused of following Apple in its turn last year, so
Mr Barra's defense was that they admire what Apple is doing
, and everybody is deriving inspiration from everybody else.
This slide apparently was meant as a counterpoint to fend off any allegations that HTC has made the One A9 design pretty close to the
iPhone 6
, which was released last year, and that's when Hugo Barra commented that it resembles an HTC aesthetic. In his turn,
an HTC exec elaborated earlier
that the One A9 is simply an evolution of the M-series in a thinner, lighter form. He mentioned HTC was having all-metal phones with rounded corners and antenna strips on the back before the new iPhone design was born.
While this can't be denied, the rear design of the M-series is rather different than what the One A9 is offering here, yet it's situated far enough from the iPhone 6 or 6s, too. For comparison, check out how the Apple and HTC designs evolved in the last few years, without any plastic strips distraction, in the second slide below.