LeTV is the first company to tease a smartphone based on the Qualcomm Snapdragon 820
16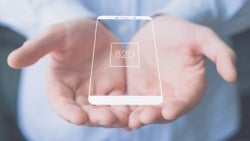 LeTV, a young but ambitious smartphone maker from China, has hinted that its next smartphone will be based on the upcoming Qualcomm Snapdragon 820.
LeTV may not have the brand recognition of other local competitors, but the company is already starting to make some waves in its home country. According to one recent report, LeTV is now the
fastest-growing smartphone maker in China
, which is the largest smartphone market on the globe by both total revenue and shipment numbers.
The company has achieved this feat with
three smartphone models
, all of which come with high-end specs at an affordable price. Unsurprisingly, it looks like the young smartphone maker is not going to lift the foot off the gas pedal anytime soon.
The company announced that it is working on a Snapdragon 820 smartphone by posting a teaser on its Hong Kong page. The teaser consists out a smartphone front panel with minimal bezels and the number 820 written in the center. It's not an official announcement per se, but the imagery could not be any more suggestive. Furthermore, the company's CEO and COO have recently forwarded a Snapdragon 820 post from China Mobile on Weibo. Both the LeTV One Pro and the LeTV One Max are based on the Snapdragon 810, which is why it's not surprising at the least to see LeTV teasing a Snapdragon 820 phone next.
Now, just because LeTV is the first smartphone maker to tease a Snapdragon 820-powered handset, this doesn't mean that it will also become the first one to actually launch such a handset. Bear in mind that the current estimate is that the Snapdragon 820 will start shipping on actual devices starting with early 2016. However, history has proved that it's not entirely impossible for new Snapdragon versions to debut on devices made by lesser-known Chinese smartphone makers.
While Qualcomm has yet to announce the full technical specs of the Snapdragon 820, the company recently shared some
details about its upcoming chipset
, the takeaway being the fact that the SoC's Adreno 530 GPU will bring a 40% boost in performance comes with a sweet 40% drop in power usage compared to the Adreno 430 GPU inside the Snapdragon 810.
The Snapdragon 820 will be the SoC that debuts the company's first custom 64-bit CPU core as Qualcomm went with stock ARM cores on its first chip generation. Back at MWC 2015 when
Qualcomm first mentioned the new chip
, the company named the new 64-bit architecture Kyro, but shared little other information.
According to a few leaked slides
, the quad-core Kyra CPU inside the Snapdragon 820 will come with boost performance by 35% compared to the octa-core CPU used on the Snapdragon 810.
What do you guys think, will LeTV be able to bring its first Snapdragon 820 phone to the market before the year ends?