LeTV executive backs up his claim about the LeTV Max's bezels by posting a comparison photo
17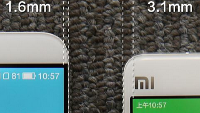 Has the whole world started focusing on bezels? All of a sudden we are seeing
claims from manufacturers
like Oppo, ZTE, LeTV and others stating that their handsets appear bezel-less. Some of the phones that look bezel-less are actually sporting a razor-thin border around the edges of the screen. The other day, Xiaomi CEO Lei Jun took a run at LeTV saying that if thin black borders equal a bezel-less display, than even the
Xiaomi Mi Note
should be considered free of bezels.
But that comment seems to have offended LeTV's COO Liang Jun. Mr. Liang posted on Chinese social media site Weibo that the suspension glass used by LeTV makes sure that the bezels on its handsets are razor sharp. Pulling out a trusty ruler, the executive measured the bezels on the LeTV Max and compared them to the bezels on the Xiaomi Mi Note. The bottom line is that LeTV's premium handset carries bezels measuring 1.6mm. That is nearly half the size of the 3.1mm bezels found on the Mi Note.
Is LeTV's COO is willing to put his money where his mouth is? Mr. Liang posted a challenge saying that if someone can find a narrower bezel than the 1.6mm border found on the LeTV Max, on a QHD screen, that person will be awarded $1 million by LeTV. Before you start making Xerox copies of the ZTE Nubia Z9, we have one thing to say.
BUZZ!
Sorry, but that phone carries a 1080 x 1920 resolution.
LeTV posted a list showing the bezel size of some handsets, including the 1.6mm LeTV Max. The
Meizu MX4 Pro
weighs in with bezels measuring 2.4mm and the borders on the
Huawei Ascend Mate7
measure 2.9mm. The
Samsung Galaxy S6
carries 3.5mm bezels, the
HTC One M9
sports bezels that measure 3.8mm and the
Apple iPhone 6 Plus
bezels measure 4.6mm.
source:
Weibo (LaingJun)
via
GizmoChina