Oppo's bezel-less display technology appears on video
11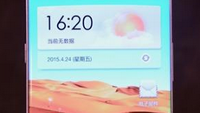 A video from China reveals some of the technology employed by Oppo that gives its newer handsets a look of being bezel-less, when in actuality there is a razor thin border around the glass. A prototype stars in the video and in real-life this technology will be employed on the Oppo R7. The extremely thin handset has been
the subject of quite a few leaks
. Besides presenting a bezel-less look, the Oppo R7 also could be the thinnest smartphone in the world measuring less than 4.85mm thick.
Besides Oppo, other manufacturers are adopting a bezel-less look
including LeTV
, and
ZTE
. The ZTE Nubia Z9 is expected to offer users a special feature called 3D edge touch. With this feature, users can tap on parts of the screen where normally a bezel would be found, and open the camera, activate the shutter and make phone calls. ZTE plans on
opening up the API for third parties
to use to develop new features.
The latest information we have is that the Oppo R7 and the Oppo R7 Max
will be unveiled on May 20th
. There is speculation that
a fingerprint scanner will be included
although the phone's Twiggy-esque footprint allows for no more than a 2000mAh battery to be included. The premium Oppo R7 Max will reportedly be a bit thicker, allowing the manufacturer to stuff a larger battery into the unit.
Is a thin or non-existent bezel one of the features you look for when purchasing a new handset? Regardless of your answer, you might want to check out the nice looking Oppo prototype seen in the video below.