Law enforcement officials blame carriers and OEMs for rising number of cellphone thefts
34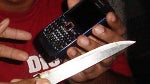 With cellphone theft accounting for
half of all robberies
committed in San Francisco this year, up from the 36% it accounted for last year, San Francisco D.A. George Gascón is upset. "
Unlike other types of crimes, this is a crime that could easily be fixed with a technological solution
," the D.A. said, blaming Apple specifically for not using its technology to fix the problem. In Washington D.C., where 1,829 cellphones were taken in robberies last year, the chief of the D.C. Police Department put the blame on the carriers. "
The carriers are not innocent in this whole game. They are making profit off this
," noted Chief Cathy L. Lanier.
The problem, as most law enforcement experts see it, is that the cellphone industry has its head in the sand. "
The cellphone industry has for the most part been in denial. For whatever reasons, it has been slow to move
," stated Chuck Wexler, the executive director of the Police Executive Research Forum.
The carriers and manufacturers do say that they care. T-Mobile's vice president of product management, Jason Young, said, "
If you've ever lost a phone or had one stolen, it's a scary thing, it's a painful thing and it's a costly thing
." Apple does have the "Find My iPhone" app which can find a stolen iPhone and remotely wipe the data from the device. Android users can download a third party app that can find a missing device.
And while a new database is supposed to keep track of each phone's unique identifier to prevent carriers from reactivating a stolen unit, tech-savvy criminals are
removing
the IMEI so that a phone can be hooked up to a network. Representative Eliot Engel from New York has proposed legislation that would make it a crime to modify the IMEI on a device. The reason it is not illegal in the U.S. is because the industry has argued that consumers need to have the right to remove the number to prevent them from being tracked.
But for now, with stolen iPhones fetching over $500 in San Francisco, and others ending up in Mexico, Vietnam and other countries, it is business as usual for the criminals.
source:
NYTimes
via
AppleInsider