NYT: Data sharing service helps law enforcement track any cellphone in seconds
2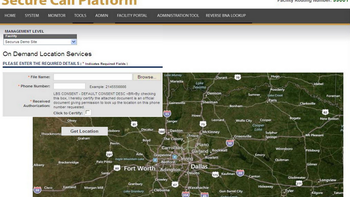 A company called Securus Technologies provides prisoners in jails and prisons with phone service, and also monitors those calls. It also sells its services to law enforcement. So how does that affect you? According to a report in the
New York Times
, an ex-sheriff in Mississippi County, Mo. used Securus to track cellphones belonging to those not incarcerated, including those belonging to his officers. And he was able to do this legally, without having to obtain any warrants.
Charges have been filed in both state and federal court against the former sheriff, Cory Hutcheson. The latter allegedly used the service at least 11 times to track a judge and members of the State Highway Patrol between 2014 and 2017. He pleaded not guilty, and we should point out that his removal from the Sheriff's post was unrelated to this matter.
Securus is able to track any cellphone by accessing location data from Verizon, AT&T, T-Mobile and Sprint, using a system typically used by marketing firms. The technology allows a user to find the location of a handset in just a matter of seconds. The company offers the service as an "additional feature" in order to get prison officials to pick Securus to handle inmates' phone services. The company has a promotional package that it uses to sell its services, and it mentions how the location tracking system, in a murder case, was used to get law enforcement "within 42 feet of the suspect's location."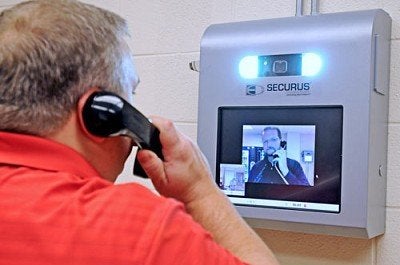 A Securus video phone used in prison
While Securus requires that the user of its location tracking service upload a warrant or affidavit and certify that the tracking has been authorized, it did release a statement that "...(the company) is neither a judge nor a district attorney, and the responsibility of ensuring the legal adequacy of supporting documentation lies with our law enforcement customers and their counsel." Senator Ron Wyden (D-Oregon) says that he wrote the FCC this week to let them know that Securus failed to "conduct any review of surveillance requests." The senator says that simply requiring customers to send documentation is not adequate, and that "Wireless carriers have an obligation to take affirmative steps to verify law enforcement requests," something that Securus does not do.
The carriers have weighed in with their responses. Verizon says that if Securus is using Verizon customers' data in this manner, it will stop it. Likewise, T-Mobile stated that if it finds that there is misuse of data, appropriate actions will be taken. AT&T said it used the "best practices" followed by others in the wireless industry by turning over location information under a lawful request, or with customer consent.
But that is where everything gets fuzzy. Many subscribers to wireless providers are giving these companies consent to use their location data without even realizing it. Vague language and tricky permission requests can fool even the most seasoned smartphone user. And once the carriers gain subscribers' approval, they can turn around and sell this information to the marketing firms. And that is the database used by Securus to find your location in seconds through your handset. And even if a warrant is faulty or is made up, Securus says that it is up to its customers and their attorneys to determine the validity of any legal documents supporting the tracking of a person's phone.
source:
NYT