Larry Page repeats denial of Google involvement with PRISM, calls for more transparency
11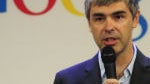 Google was quick to deny any involvement with the NSA's
PRISM
program, and especially any ideas that Google had built a "back door" for the government to grab user data, but CEO Larry Page wanted to reiterate that denial and add a few more details to the mix. Not only is Page denying any Google involvement with such a program, but he's also calling for more transparency in these matters.
Page assures users that no government has access to Google servers and Google data, and says that no one at Google had even "heard of a program called PRISM until yesterday." Page reiterated that Google only provides data "in accordance with the law" (although in the Patriot Act era, PRISM could very well be lawful), and commented directly on the
Verizon reports
:
Until this week's reports, we had never heard of the broad type of order that Verizon received—an order that appears to have required them to hand over millions of users' call records. We were very surprised to learn that such broad orders exist. Any suggestion that Google is disclosing information about our users' Internet activity on such a scale is completely false.
Of course, Page also found the time to pat Google on the back over its Transparency Reports, before calling for more transparency overall:
We understand that the U.S. and other governments need to take action to protect their citizens' safety—including sometimes by using surveillance. But the level of secrecy around the current legal procedures undermines the freedoms we all cherish.
Recommended Stories