Labor violations uncovered in Apple's supply chain
9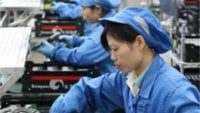 After uncovering evidence of
labor law violations in Samsung's supply chain
, New York-based watchdog China Labor Watch, together with Green America, has now published a report, citing forced overtime, fire and safety risks, poor compensation, and exposure to toxic chemicals at a factory in Apple's supply chain.
The facility in question is located in Suqian, China and is owned by Taiwan-based Catcher Technology. The factory is tasked with manufacturing the aluminum bodies of iPads and MacBooks, but it also produces parts for Dell, HP, Lenovo, HTC and Motorola
CLW claims that it investigated the Suqian factory 16 months ago and reported findings of violations to Apple privately. After this recent probe, the watchdog claims that conditions have not gotten better, but are in fact even worse. Investigators found a total of 22 labor violations, including locked fire exits, lack of proper protective equipment, heavy dust in the workplace, a lack of occupational safety training, mandatory overtime, workers being required to pay for drinking and shower water in dorms, long work shifts while standing, insufficient social insurance, exscessive overtime of up to 100 hours per month, workers needing a "permission to resign", and others. Basically, if you are feeling like you don't like your job very much, head over to the link in the source and read the document – you just might start feeling better.
CLW points out that Apple has promoted a Supplier Code of Conduct since 2005; however, it has done little to keep its partners along the supply chain on-track. Apple replied, saying it conducts quarterly fire-safety inspections at the plant and that it is dispatching a team to immedieately investigate the report claims.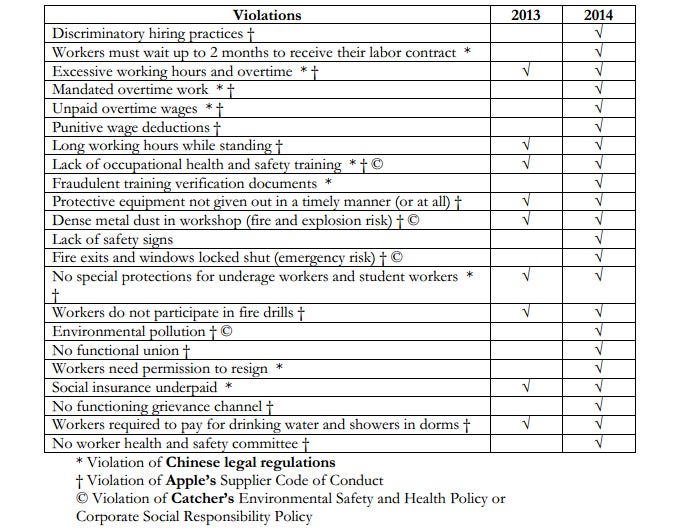 source:
Green America
via
Macworld