New reports of child labor in Samsung's supply chain
22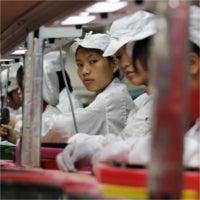 Two years after first
revealing the exploitation of child labor in Samsung's supply chain
, CLW (China Labor Watch) has once again exposed similar violation amongst the manufacturer's contractors, this time at a factory called Shinyang Electronics in Dongguan, China.
The watchdogs report that they have sent an undercover investigator into the Shinyang factory in June this year, who, in a matter of days, has found five child workers, with evidence suggesting there may be more.
Since the bulk of Samsung's orders are usually seasonal, manufacturers like Shinyang choose to get around proper hiring procedures and instead employ children and teenagers to alleviate the workload and help meet deadlines. Busy seasons last from 3 to 6 months, during which time child workers will usually labor for around 11 hours per day with no overtime pay, no social insurance and no severance pay once the order is complete and the illegal workers are laid off.
Samsung claims in its 2014 sustainability report, exquisitely titled "Global Harmony", that it has inspected the working conditions at 200 suppliers in 2013 and "no instances of child labor were found".
Contrary to said report, in just this one supplier's factory, CLW has found several children, working for 11 hours per day, while being paid for 10. Other uncovered violations include unpaid overtime wages, excessive overtime, lack of social insurance, lack of pre-job safety training, no protective equipment in a harmful environment, discriminatory hirings, workers made to sign blank contracts, illegal resignation requirements, potential audit fraud, broad and easily bendable company regulations, a lack of any union, and poor living conditions.
For the last 2 years, the CLW has repeatedly exposed labor violations in Samsung's supply chain, as the smartphone giant has yet to effectively implement its own code of conduct and social commitments. According to CLW, the manufacturer's reports are all fluff and no substance, looking to appease investors, instead of actually taking care of the issue.
source:
SamMobile
via
China Labor Watch