LG's profit dips on phone division loss, hope for rebound now riding on the V20
7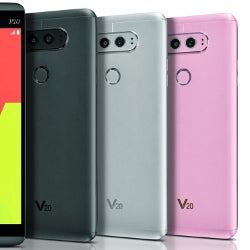 LG just issued its Q3 earnings, and there is a slight 3.7% dip in operating profit, thanks to lackluster performance of its smartphones in the market.
In the July-September quarter LG made about $250.9 million on the whole, which is half of what it made in Q2. The smartphone business has been operating at a loss for five consecutive quarters before that, and Q3 was no exception, due to "
lower sales of premium devices and expenses related to business structure improvement activities
."
"
Priorities for the final quarter of the year will include increasing sales of the new LG V20 smartphone and mass-tier K and X series, and finalizing business structural improvements in the mobile division to be better prepared for the challenges ahead
," according to the press release. Thus, there is a lot riding on the eventual market success of the
V20
monster of a flagship now, so that the phone division can join the home appliance and TV business of LG in being finally profitable.