LG's next major smartwatch boasts new buttons, adjusted design and more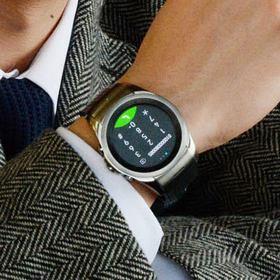 LG has been one of a cluster of companies to jump on the smartwatch bandwagon early, and only a couple of days ago, we got a glimpse of the rather grandiose 23k gold-plated
Watch Urbane Luxe
-- showy alligator leather band and all. According to a new report from
Android Police,
LG's next-gen wrist computer is on the cusp of its grand market entrance, and with any luck, will be ready to make its début by the end of this month.
As per
"two trusted sources",
the device will boast a circular display akin to the
G Watch R
, although for now, there are no images for us to mull over. There's also no name to pin to this forthcoming wearable as yet, although 'G Watch R2' or 'Watch Urbane 2' don't seem too far-fetched.
Compared with the aesthetic of the
Watch Urbane
, there are two new,
"sport watch-style"
buttons. As with the Urbane, the new smartwatch boasts your traditional crown button in a central location on the right-hand side of the device, as seen with nearly all timepieces. On either side of said crown, two more buttons sit at 45-degree angles, but unlike the smallish, rounded buttons of the
Watch Urbane LTE
, say, they're apparently larger. Details are fairly scant at this stage, so for now, it's anyone's guess as to the functions of these two new hardware effects, but it seems as though they're designed for easy, hassle-free access in active situations.
According to Android Police's description, the refined device offers a premium-looking finish, with
"a mix of brushed and polished metallic silver textures."
Along with the sport watch-esque buttons, it's said to be a more sporty product overall, with at least one of the bands being comprised of rubber. Still, it's very possible that LG will supply a variety of different strap options of numerous materials in order to maximize its general consumer appeal, so we'll have to wait and see what the company has up its sleeve.
Given the aforementioned lack of details, there's no solid info on the color options, pricing or availability -- save for the fact that may be announced later on this month. After the recent unveiling of the Watch Urbane Luxe, though, it's clear that LG means business as far as this emerging product category is concerned, and as such, we keenly await further information.