LG's foray into T-Mobile commences with the Sentio, dLite, & GS170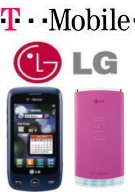 When you look closely at T-Mobile's handset lineup, you'll probably find that one major player is glaringly missing from the bunch. LG has quickly risen to fame with so many memorable handsets spanning the lineup of three of the the four major wireless carriers in the country. For so long now, T-Mobile looked to be resistant in offering phones from the Korea based company, but that's all going to change very soon. Three LG phones are expected to make their way to T-Mobile's lineup this summer where they should hopefully find their niche.
The first handset is most likely the most appealing of the bunch as it follows closely to the LG GS500 Cookie Plus. The LG Sentio brings forth all the refinements we see in most touchscreen phones as it packs a 3" WQVGA display (240 x 400), 3-megapixel camera, 3G, T-Mobile Social Buzz, MP3 player, and support for Visual Voicemail. Secondly, the LG dLite may look somewhat delightful with its colorful color offerings in either "electric blue" or "bubblegum." The flip style handset features a 2.8" QVGA internal display, external LED display that's touted as a "uniquely customizable
edge
-lit LED light colors and patterns," 3-megapixel camera, Social Buzz, 3G, and visual voicemail. Finally, there's the LG GS170 which is as an entry-level flip phone that's probably going to fly by with the most basic of features – Bluetooth
2.1
, VGA camera, and capable for email, SMS, and MMS.
Naturally everyone is probably looking for some high-end offering already, but this commencement looks fitting as these handset will be marketed more to a broad range of customers. However, there was no exact date for release nor was there any pricing associated to them just yet, but luckily they'll be here in time for "this summer."
LG dLite Specifications
LG GS170 Specificaitons
source:
PR Newswire
via
Unwired View