LG to take the wraps off of its beast on September 19th?
37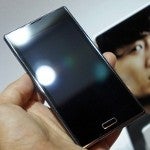 Remember the scene in King Kong when the big Gorilla is unveiled to the world amid the constant popping of flashbulbs? Ok, it isn't really the same thing, but imagine if you would the same excitement and awe on September 19th. That's when
LG introduces its beast
, the
LG Optimus G
. The event, produced by both LG and Qualcomm, shows off the phone that LG developed using vertical integration. In other words, when it came to innovations for the handset, the Korean manufacturer ate its own home cooking. And toss in that quad-core 1.5GHz Qualcomm Snapdragon S4 Pro APQ 8064, and you have a phone that not only has a quad-core processor, but also LTE connectivity. And when you need your graphics crunched, the Adreno 320 will be happy to oblige. Some regions of the world will see a 13MP camera on back, while the rest will have to settle for 8MP.
Samsung Galaxy S III
, and
some of the specs show that LG has succeeded
, at least on paper.
The LG Optimus G has 2GB of RAM
, something seen on the stateside version of the Samsung Galaxy S III. And don't forget that the U.S. Samsung Galaxy S III models (outside of the T-Mobile model) have LTE connectivity but no quad-core processor. My oh my, has LG come a long way since its first U.S. sold smartphone, the
LG INCITE
.
Verizon customers could be getting excited as a version of the phone
named the
LG Optimus Blaze
is allegedly heading to Big Red. On the 19th, we should find out more information on launch dates, price, specs and more. If the display really does make it look like the images on the screen are floating under your finger, LG could have the beginning of the franchise model that
they so desperately need to compete with those top-shelf models
that get updated every year like the
Apple iPhone
and the
Samsung Galaxy S
line.
source:
Phandroid