LG to start producing those retina screens for the iPad mini next month
13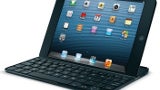 Who wants an
iPad mini
with a retina screen? We could certainly use one, but it looks like we'll have to wait a bit more. And while we can't be sure just when those retinized minis are going to start flying off the shelves, we can at least enjoy the numerous leaks that are hitting our inbox on a daily basis now.
This latest rumor about the Apple iPad mini has it that LG, which is obviously going to be one of the suppliers of screens for the upcoming device, will start mass-producing those panels as soon as next month. This info actually comes from NPD DisplaySearch analyst Richard Shim, who
seems to be on a roll
these days. According to the analyst, the new 7.9" panels will have four times more pixels than the current generation iPad mini, which would make for a resolution of 2048 x 1536 pixels. This will put the pixel density well over 300 ppi, meaning that Apple will be able to safely (and proudly) call this display a 'Retina Display'. Not that the name really matters.
The new iPad mini is currently expected to arrive sometime in Q3, with Mr. Shim predicting a third-generation iPad mini coming early next year - a release schedule looking similar to what Apple did with the third- and fourth-generation
iPad
.
via:
AppleInsider