Apple to release a Retina iPad mini in Q3 2013, and an upgraded one in Q1 2014
9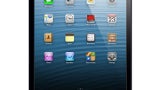 The Apple iPad mini has been a success, there's no doubt about that. And as every successful device, it's bound to have a successor at some point. We're pretty sure that Apple is going to introduce a new iPad mini this year, one that will fix the tablet's biggest drawback - the low resolution.
Things, however, are starting to get much more interesting now that NPD DisplaySearch analyst Richard Shim has said that he expects Apple to follow this new iPad mini with yet another one in early 2014, possible even in Q1 2014. According to Shim, Apple's going to pull a "New iPad" kind of a move - with a resolution upgrade in the second half of this year and a quick under-the-hood refresh early next one. The 2014 iPad mini is said to come with a faster processor in order to keep the device as competitive as possible.
The sources claim that it's not clear yet what kind of screen technology the new iPad mini is going to use. The main concern in this regard is that such advanced displays as the ones Apple is using in its latest devices are still slow to produce, which means that the tablet's release may happen later in the year than what was initially expected.
via:
AppleInsider
Recommended Stories