LG to launch curved screen 6-inch smartphone in November
18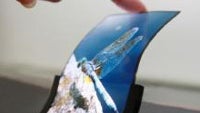 After a handful of
rumors
and
leaks
, today, LG Electronics' display unit has confirmed that LG will release flexible screens and sources have confirmed that a smartphone with a curved display is indeed due in November, according to Reuters.
The officially announced 6" display will be bendable and unbreakable, made out of plastic. It will be extremely light at 7.2g and thin measuring just 0.44mm. LG, the second-largest South Korean phone maker, plans to match rival Samsung and release a flexible screen smartphone first, in November. Samsung has said last month that it plans to unveil a phone with a bendable display in October.
The upcoming LG smartphone will feature a 6" screen that bends from top to bottom. In contrast, the Samsung rival device is expected to flex from the sides. Samsung is rumored to announce a limited edition Galaxy Note 3 with a YOUM flexible screen on October 25th.
Looking back at earlier rumors, we expect to see this flexible-display smartphone from LG land under the LG G Flex moniker. It's rumored to have top-shelf specs - a Snapdragon 800 chip with Adreno 330 graphics. We've been hearing about an LG G Flex coming to Korea's U+ carrier, but the device is codenamed LG Z internally, and that might be the name LG uses for its global launch.
The LG G Flex, or LG Z, release date might be soon, but actual availability will likely be extremely limited. Samsung and LG have both started mass producing flexible screens, but the yields are low and monthly production at LG is not likely to stand at more than 300 000 units.