LG patents a crazy rollable smart pen that aims to replace your smartphone
9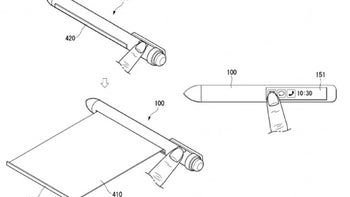 It seems that the next few months could be quite interesting ones for... styluses.
First up, we have tons of rumors pointing out that the S Pen on the upcoming Samsung Galaxy Note 9 will be a huge improvement when it comes to unique features: it could feature Bluetooth, boast music playback controls that doubles as a remote shutter release, and even more.
Secondly, the news broke up that LG has been awarded a patent application for a foldable smart pen/stylus that was applied for all the way back in 2015, and it is every bit of crazy. To kick things off, it features not one, but two displays. According to the patent images, the smaller one will showcase the time, a slew of notifications, and a host of useful app shortcuts.
Meanwhile, the crazier flexible display, aside from being much larger, will also roll into the body of the stylus itself and retract out with the push of a dedicated button. But to what end? Well, it seems that LG envisions its invention as a replacement of the traditional smartphone.
The patent describes that you will be able to pair the smart stylus with any other smart device and mirror your real-world writing. Essentially, you will be able to write on real paper and your scribbles would automatically show up on your tablet, for example.
But wait, there's more, the patent crazily continues to describe how the stylus would feature just about any smartphone sensor you could think of: a gyro, e-compass, proximity, pressure, camera, eye-tracking sensor, and even a fingerprint sensor. Finally, a microphone and an earpiece complement the feature list of the invention, hinting that LG would be keen on you making calls on a digital pen.
How and where LG would be capable of physically fitting all these inside a tiny stylus is beyond us.