LG sends invitations for MWC press event, hints at 4 new handsets
10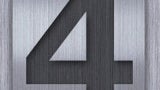 We've received an invitation for LG's press event at MWC, which is going to take place on February 25. While there's nothing that unusual about the invitation, we couldn't help but notice the large "4" and the text "4 more from LG" that take the central area of the image.
What could this possibly mean?! Of course, every normal person would assume that LG is giving us a (quite obvious) hint that it's going to introduce a total of four new handsets at the Mobile World Congress. The other text from the invitation reads "See the difference," but that one we cannot decipher. It may have something to do with a new display technology, but that's pure speculation.
LG already announced that it's going to unveil
a new series of devices
at the biggest mobile tradeshow, and now we probably know their exact number. However, the most important thing still remains to be seen - exactly what these devices will be like and what will be so cool about them that
LG can't stop teasing us about them
.
Stay tuned to PhoneArena, as we'll be covering MWC live!