LG releases video showing off the new UX 4.0+ on the LG V10
11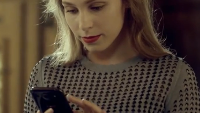 LG has just released a video, showing off the new LG UX 4.0+ being used on the
LG V10
.
The multimedia-centric device was unveiled earlier this month
with Android 5.1 pre-installed. An update to Android 6.0 should take place early next year. Meanwhile, the video shows three different scenarios and includes a talking giraffe.
First LG tells us about "Convenient Experience," which helps V10 users quickly and easily access the functions they use often. On the video, a woman who apparently works in the fashion industry, looks rushed and harried until she uses this feature on the V10 to help her quickly send out important memos to her co-workers. The point? The LG V10 with UX 4.0+, will help business users work faster.
The clip also shows how selfie snappers can go from taking a standard selfie, to shooting one with a wide angle view, with a single touch. You can return to a standard shot with another single tap. The point? You can throw away your selfie stick as your LG V10 with UX 4.0+ can snap wide angle selfies. Also, if you hear a giraffe talking, it's time to give up drinking before lunch.
The next section of the video deals with Vivid Experience, or the ability of UX 4.0+ to give users control over the camera settings. This is the first smartphone that has a manual mode for videos, allowing users to control how light or dark subjects appear. And the last part of the clip deals with the Audio Experience, showing how UX 4.0+ users can manipulate the settings on their V10 to create the sounds that they want to hear.
LG says that UX 4.0+ helps you design your senses, and we really couldn't argue with the idea that UX 4.0+, in conjunction with the LG V10, allows users to be very much in control of their multi-media experiences. Check out LG's message by clicking on the video below.
source:
LGMobile