LG has the biggest increase in Android market share since June
18
Which Android device manufacturer picked up the most market share between June and September? Would you have guessed LG? Thanks to the
LG G3
, the manufacturer picked up 1.7 percentage points, and now controls 10.4% of the Android smartphone market. That puts it second to Samsung. The latter saw its market share increase by 1 percentage point to 57.4% during the same time period.
The data was derived from following the web traffic of hundreds of millions of Android flavored phones and tablets from September 1 to September 30, 2014. The numbers were compared with the figures generated from June 1st through June 30th.
The forked version of Android used on the Amazon Kindle Fire line has surprisingly given Amazon the third largest market share for Android devices, at 6.9%. That is up .1pp from June. Surely it is not from the
Amazon Fire Phone
, which
has not been selling that well
. Motorola (6.4%, down from 6.7%) and HTC (4.8%, down from 5.5%) round out the top five. Sadly, Sony's lack of distribution has kept the web impact of its models down. That results in the company finishing in 11th place, behind Barnes and Nobel. As of the end of September, Sony had .7% of the Android market, down from the .9% it had at the end of June.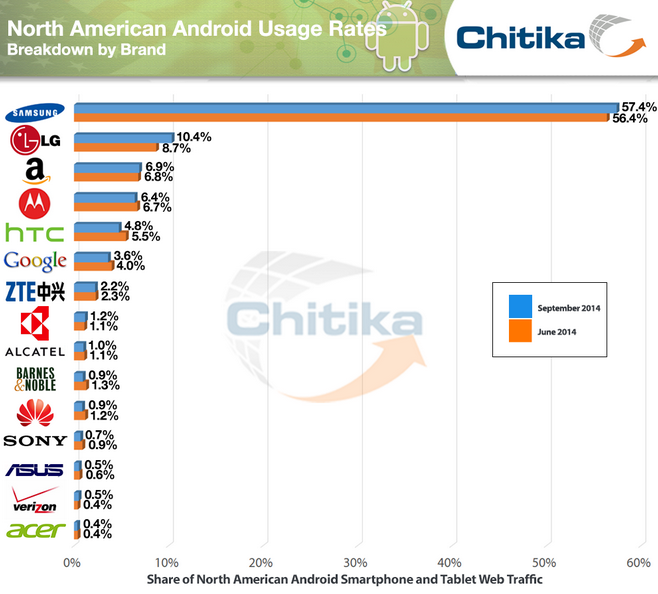 LG has the biggest jump in market share among Android manufacturers since June
source:
Chitika