LG eyeing end of April release date for the LG G4, analysts optimistic about its success
37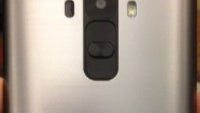 The Korea Herald reports that LG is eyeing an end-of-April launch date for its next flagship smartphone, the LG G4. This way, LG will have a timely response to arch-rival Samsung's competing products, shipping a high-end product about two weeks after the Samsung Galaxy S6 and Galaxy S6 edge go on sale globally.
Reportedly, the LG G4 will have a sub 5.5-inch 1440x2560 display, and the device will have a slight curve for a more natural fit in the hand. If the (reasonably authentic looking) leaked photos below are anything to judge by, LG also modified the rear panel with a rugged texture for a non-slippery hold. The shape of the power button has been changed from circular to oval, and the volume keys have been redesigned yet again.
Otherwise, the smartphone seems quite familiar to the LG G3, which probably won't please users expecting LG to rethink its design with more metal and plastic in mind. On the positive side, retaining a plastic build could let LG position the LG G4 as a more cost-effective path to high-end mobile performance - at least for users outside of China.
The Galaxy S6 devices, the HTC One M9, and the
upcoming Sony Xperia Z4
are considerably expensive smartphones due to their complicated production. LG could benefit from this situation by offering a cheaper device with many of the same, or even better features. However, LG and the rest of the industry may have a hard time matching the Galaxy S6's 14nm SoC, exorbitant flash storage speeds, and 10 minute charging ability, as all three are technologies proprietary to Samsung.
Still, Korean analysts remain optimistic for the LG G3's successor. Kiwoom Securities Co forecasts 15 million LG G4 units sold annually, while fellow firm Korea Investment & Securities Co. predicts 9.2 million units sold this year.
As a late comer to the smartphone market, LG certainly doesn't command as much attention among the industry and smartphone userbase as Samsung, but its brand and mobile business is steadily growing. In 2011, LG shipped 20 million smartphones worldwide. In 2014, backed by the LG G3's good market performance, it racked up 59.6 million units, which is a rewarding 33.56% increase over two years.
So, what do you think of the LG G4 so far? Do you think it will the best LG has to show in 2014, or the company is saving the best for the
alleged LG G Note phablet
?
source:
Korea Herald
via
G For Games