LG expects to roll out Ice Cream Sandwich upgrade to select devices starting in Q2 2012
23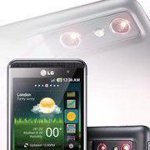 Now that Christmas is behind us, we're certain that a some of you might've received a nifty gift from the man in the big red suit, but if you happened to get an Android powered smartphone from LG, you ought to pay more attention to the news about LG's plans.
Last time around, we heard that LG was planning to bring the
LG Optimus 2x and several other high-end devices
from its portfolio up to snuff with
Ice Cream Sandwich
. Well folks, this morning brings us yet additional news regarding the highly anticipated update.
Taking a look at
LG's Facebook page
, the Korean based company outlines its plans on brining Android 4.0 Ice Cream Sandwich – though, not everyone is going to be pleased by the news. Specifically, the LG Optimus LTE, Prada 3.0, Optimus 2x, Eclipse, Optimus Sol, and my Touch Q will all be getting ICS sometime in
Q2 2012
. Meanwhile, the LG Optimus 3D, Optimus Black, Optimus Big, Optimus Q2, and Optimus EX will getting the tasty treat around
Q3 2012
. Naturally, it's nice to know that these select devices are going to be treated to the latest and most up-to-date version of Android, but the wait is still rather lengthy.
We've reached out to LG regarding the matter surrounding the missing devices and will update things when we hear a repose.
**Updated**
And right on cue, we received news from LG directly regarding the matter at hand. Not surprisingly, LG tells us that the carriers have the power in making the call – meaning, LG's technical account teams work with the carriers to determine compatibility. Therefore, "
the carriers make the decisions as to which devices receive what upgrades and when
." At this point, it's a matter of playing the waiting game and hearing word directly from the respective carriers as to when they'll treat their LG devices with the tasty dessert.
source:
LG
via
TmoNews
&
The Verge