LG enV Touch price lowered to $99, but for how long?
31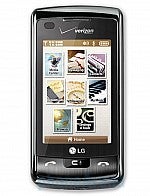 LG enV Touch, Apple iPhone 3G S, or Palm Pre? If you're a consumer, you have a lot of options when it comes to choosing a new phone, and if you're Verizon, you want people to buy the new
enV Touch
. Even though the device was
introduced last Friday
for $149, the competition heated up once
Sprint sold over 50,000
Palm Pre phones opening weekend, and Apple revealed the
iPhone 3G S
on Monday. Now it's not really fair to compare the enV Touch to the iPhone or Palm Pre, since the latter two are smartphones, but anything to help lower the price of technology is good....right? If you already purchased the enV Touch while it was at the higher price, you should be able to call customer service or visit your local store for a refund of the difference.
source:
Verizon Wireless
LG enV Touch Review
$99.99 for 2 year contract - $169.99 for 1 year contract