LG: We are bringing the new G3 UX interface to all of our mobile devices this year
21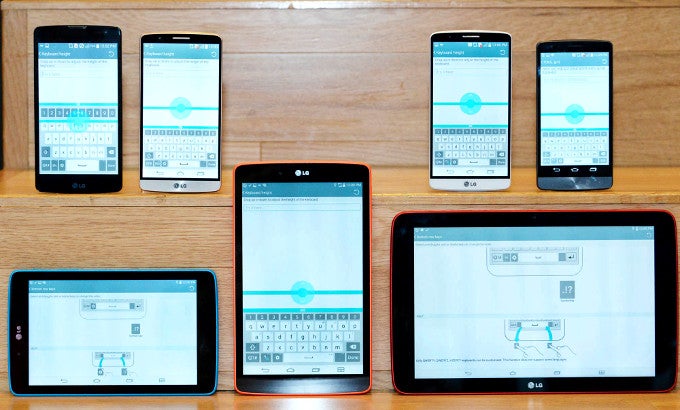 The new flat LG UX that you know and love from the
G3
, made its way into the
G3 s
as well, and it seems this will be the way going forward for LG. The company issued a press release that it will be disseminating the general look, and the functions that fit, to all of its entry- and mid-level smartphones this year, which is certainly great news, as well as its tablets.
Of course, not all features that are in LG UX of the G3 will find their way into the lower tiers, as some of those are hardware-dependent, but at least a few are confirmed to arrive. One of those is LG's new camera interface, which bets on a clean and uncluttered look, with only the basic functions displayed, without all the unnecessary modes and effects that people rarely use - the Touch&Shoot function will be there, though, as will be the Gesture Shoot and Clean View options. Furthermore, all LG handsets in the second half of the year will be getting the Smart Keyboard, which can lower typing mistakes up to 75%, claims LG, and is a fine alternative to any
third-party keyboard you can grab from the Play Store
.
As per Dr. Jong-seok Park, CEO of LG Mobile: "
With the basic principles of the G3's UX features rooted in making complex technologies simple and convenient, our goal was to provide consumers with a user experience they genuinely need and want. Standardizing these features across our entry- and mid-tier mobile products is just a natural extension of our desire to make every LG device feel premium and unique
." Hear, hear.
LG G3 UX TREATMENT TO BECOME STANDARDIZED ACROSS MID- TO ENTRY-LEVEL SMARTPHONES AND TABLETS

Simplified Camera and Updated Smart Keyboard to Enhance LG's Mobile Product Lineup


SEOUL, Aug. 19, 2014 ― From entry-level to premium, LG has been actively working to provide a consistent and uniform user experience (UX) across its entire mobile product lineup. Toward that end, LG Electronics (LG) will begin standardizing its proprietary UX features, first introduced in the new LG G3, across most of the company's mid- to entry-level smartphones and tablets launched in the second half of this year.

Since its worldwide unveiling in May, the LG G3's UX features have been positively received by both customers and industry experts with many bestowing high praise for its user-friendly enhancements. The 2014 Red Dot Communication Design Award judges also applauded the LG G3, with a total of three "Best of the Best" awards for its intuitive UX features.

"With the basic principles of the G3's UX features rooted in making complex technologies simple and convenient, our goal was to provide consumers with a user experience they genuinely need and want," said Dr. Jong-seok Park, president and CEO of LG Electronics Mobile Communications Company. "Standardizing these features across our entry- and mid-tier mobile products is just a natural extension of our desire to make every LG device feel premium and unique."

A simplified camera displaying only the most frequently used menus is one of the UX features that will be standardized across mid- and entry-level LG smartphones. One of the key camera features is Touch & Shoot, which helps capture special moments quickly and intuitively by letting users tap anywhere on the display to focus and trigger the shutter in one single step, eliminating a time-consuming two-step process. Gesture Shot makes taking selfies simple and fun. Opening and closing one's hand in front of the lens starts a three-second countdown before triggering the shutter for brilliant, blur-free selfies. Clean View offers a full, clutter-free preview interface by removing all camera menu icons from the screen.

Another UX feature to be standardized is Smart Keyboard, which reduces input error by up to 75 percent by tracking and analyzing typing habits and intuitively "knowing" what words the user intended to type. The keyboard can be re-sized to better fit the user's hands and thumbs. Suggested words, which appear above the keyboard, can be entered with just an upward flick of the thumb. Individual keys can be customized with frequently used symbols for even faster input. Long-pressing the space bar and sliding the thumb or finger left and right repositions the cursor for faster editing.

# # #