LG suggests the LG V40 will sport an OLED display, other V-series devices too
20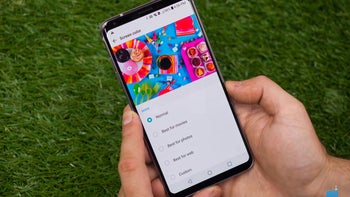 LG has confirmed that future V-series device will sport OLED displays. Despite certain reports claiming that LG would produce separate G7 ThinQ variants with LCD and OLED panels, the company ultimately bet solely on the cheaper display. Speaking to
AndroidHeadlines
, however, LG has confirmed the reasoning behind this decision and, in the process, also revealed some details about its upcoming devices.
Speaking at the
G7 ThinQ
launch event yesterday in New York City, LG stated that it opted for an LCD panel in its latest flagship because G-series devices are considered more mainstream by the company. In fact, LG appears to be positioning
its latest device
as a more entry-level flagship, although it said that pricing of the panel wasn't the deciding factor in the decision. Instead, the company's decision to avoid OLED displays stems from its plans for future V-line smartphones. Last year's LG V30 introduced a new OLED panel and it appears LG has similar plans for this year's LG V40 ThinQ, with the South Korean brand confirming that it is saving its OLED panel production for future V-series devices, which are considered to be "more innovative" by the company. This decision also hints at the fact that the company's
upcoming LG V35 ThinQ
will also continue with the OLED panel trend.
LG is yet to confirm any specific details surrounding its upcoming LG V-series devices, but considering the company sees the lineup as a more premium flagship option, and the fact that the recent V30S ThinQ is listed for
pre-order in the US at $930
, it seems certain that any future LG V devices will gradually creep closer to the $1000 mark, which should help improve the company's profits significantly.