LG V20 #shattergate? Some users are reporting the camera's glass breaks on its own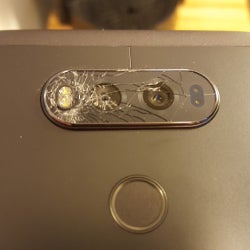 The
LG V20
has been out for about a month now and is in the hands of plenty of happy owners. It's a flagship-grade handset with a nice, metallic body, replaceable battery, a secondary ticker screen, and a dual camera module on its back. Plenty of gimmicks on the outside to keep one busy.
While it hasn't been officially stated anywhere yet, the
V20
probably also enjoyed a slight boost in sales due to users migrating away from the fires of the Note 7 and looking for another top-tier Android phablet to call their own. But those users may not be out of the woods yet, as there seems to be another #gate looming over the smartphone industry — and its shadow is cast by the LG V20.
Users across multiple forums have started reporting that the glass that covers the LG V20's camera module is prone to shattering for what seems like no reason at all. Some claim the panel cracked when the phone was just lying on a desk, others describe small drops (in case) or some form of phone usage that should absolutely not result in a cracked glass. Reddit user "xAmorphous" has started a roundup thread on the social media.
This issue was also reported on a few
Galaxy S7
or
S7 edge
units and
even on some Nexus 6P phones
back when they were released, but doesn't seem to have popped up recently. One could assume that due to the camera glass being treated to be scratch-resistant, it is under a lot of tension. Some micro-abrasions or even scratches could give said tension room to release, cracking the glass in the process.
But the LG V20 is certified MIL-STD-810 shock-resistant. It shouldn't have its components shatter due to a couple of fine scratches on them. We'll see if LG addresses the problem in the near future.