LG V10's ticker display: Gimmick or useful?
47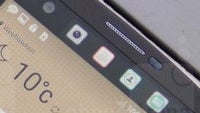 According to stats analyzed by Google itself
, the average smartphone user unlocks their smartphone 100 times a day. That's a lot of disruption to its rest time, and has a negative impact on battery life — even if you just take a quick peek.
In that context, the secondary, 'ticker' display of the new LG V10 makes some sense. The 2.1-incher (160 x 1040 pixels, or 513 ppi in case you care) will push notifications (icon only, though) and show the time or weather when the primary, 5.7-inch panel is off, potentially saving you some battery — despite the 5% battery overhead it adds, according to LG. It'll automatically shut down when the phone is in your pants, too. The screen will also serve as a questionably handy shortcut base for quick (?) access to your favorite apps or contacts. Obviously, its position at the very top of what is a very tall device is less than ideal for that latter use case.
In all, the secondary display of the V10 is of questionable utility, and it won't be until we get our hands on it that we'll know for sure which one it is. Still, based on the preliminary information already available, would you say it's more of a gimmick? Or do you think it sounds more like a useful new feature?