LG V10 starts shipping around the world, the US is among the first markets to get it
14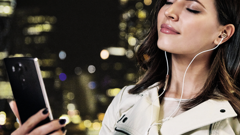 LG just announced that the V10 - the company's newest high-end smartphone - is shipping this week in key markets around the world, starting in the US, China, and Hong Kong. Canada, Europe, more Asian markets, Latin America, and the Middle East will all get the handset sometime later this quarter.
In the US,
T-Mobile will be the first carrier
to sell the
LG V10
, as it's getting ready to launch it tomorrow, October 30. Like T-Mobile, AT&T is already
accepting pre-orders for the V10
, but it's not going to release it before November 6. Verizon also confirmed that it will carry the device, but didn't provide an exact launch date for it.
All customers who are buying the LG V10 in the US before November 15
will be eligible to get gift packages
containing a 200 GB microSD card, a charging cradle, and a secondary battery.
The V10 is unlike any other smartphone in LG's portfolio. It's
a pretty tough device
(thanks to a stainless steel frame and a material called Dura Skin) that sports not one, but two displays: a main 5.7-inch one with 1440 x 2560 pixels, and a smaller, secondary 2.1-inch one with 1040 x 160 pixels (the secondary screen can stay on independently, showing notifications, app shortcuts, and other things).
Powered by Qualcomm's six-core Snapdragon 808 processor, the LG V10 also features a 16 MP rear camera with manual mode, OIS and 4K video recording, a dual 5 MP front-facing camera, 4 GB of RAM, 64 GB of internal memory, microSD card support, and a 3000 mAh battery. At launch, the smartphone will run Android 5.1.1 Lollipop, though an update to 6.0 Marshmallow should arrive in the (hopefully near) future.
source:
LG