LG Rumor Reflex hands-on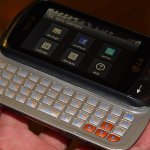 It's been a while since we've been acquainted with an LGdevice brandishing the Rumor name, so as it would go, we're surprised that thelatest incarnation is here to set ablaze a whole new generation of youngsters. Availableright now through Sprint for $29.99 on-contract, the LG Rumor Reflex is hereagain to give parents some piece of mind, and at the same time, it's availableas a prepaid option for $79.99 through Boost Mobile.
Bearing the Rumor name, the Rumor Reflex is the modernupdate for the beloved text messaging oriented handset line. At its core, it'snothing more than a quick messaging phone with a basic user interface thatprimarily caters to those who are into nothing more than sending textmessages. Of course, the first thing to come to mind checking it out, is thatit's sporting a 3-inch 240 x 400 touchscreen and a compact figure when compared toprevious Rumors in the past. Furthermore, it's worth noting that its casing is constructedout of some recycled plastics, which tends to come off on the cheap side ofthings unfortunately.
In terms of specs, itfeatures a 480MHz single-core processor, 52MB on internal storage, microSD cardslot, 2-megapixel camera, Bluetooth 3.0, BREW mobile platform, and a landscapeQWERTY keyboard. With the latter, it's actually employing a 4-row layout thathas a dedicated row strictly for buttons, and a directional pad as well.Unfortunately, we have to admit that the keyboard is flawed because of its flatfeel and stiff response. Then again, we're certain that users will be able tobreak it in slowly and eventually get its response to be a bit better.
Well, if you're a parent that's looking to shave somecharges from your monthly account, the LG Rumor Reflex might suit your needssince it's not a smartphone – therefore, it won't require a costly data plan.However, there are quite a few entry-level smartphones priced the same andlower than this, so yeah, it's a tough sell in another way.