LG Optimus Vu II hands-on
23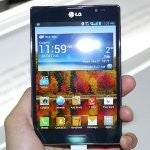 Stateside, there wasn't much fanfare surrounding the
LG Intuition
for Verizon, which is better known in other parts of the world as the
LG Optimus Vu
. Well, for those who loved the boxy form factor of the handset, you'll be pleased to know that its successor has finally shown itself on our side of the pond in LG's booth at CES 2013. Sure, the handset was
announced back in the fall
, but nevertheless, we're getting our first look at the unwieldy handset.
Just like its predecessor, the LG Optimus Vu II still doesn't have the same appeal for a handset that's sporting a very different form factor from most things out there. In fact, it
looks and feels very much like the Optimus Vu
– so there's not much of an initial attraction with it. Donning an all-plastic body, it's
easily dirtied
right away due to its
glossy finish
. Additionally, the wide figure of the handset once again makes it extremely difficult to comfortably grasp with a single hand – so if you have small ones, just expect two-handed operation frequently.
In an age where 1080p displays are commonly becoming the standard amongst top tiered devices, it's rather underwhelming to know that the Optimus Vu is featuring a 5-inch XGA (768 x 1024) IPS LCD panel. To its credit, it's still detailed enough to make out fine text, but it doesn't have that level of extreme sharpness found with 1080p displays. However, it's still boasting the same natural color reproduction and wide viewing angles as before – mainly because of the IPS LCD technology it's using.
Positioned as a note-taking device, the stylus that comes along with it (called the
Rubberdium
), is still something that can not be tucked away discretely into the handset. Rather, we notice that it can be rested in the 3.5mm headset jack. Yes, it's strange, but at least it's there within reach. Unfortunately, this device is running
Android 4.0 Ice Cream Sandwich
with the Optimus skin – so yeah, it's nothing to drool over. However, the new handset has this cool feature called
LG Vu Talk
, which allows two LG Optimus Vu II handsets to share notes with one another. Specifically, you write something on one phone, it'll show up on the other – and vice versa. So if you want a quick game of tic-tac-toe, you can definitely do it with this.
Overall though, this handset is far from a super spec'd thing, and knowing that, it's something that most people will overlook for other more favorable devices in the same category – like the existing
Samsung Galaxy Note II
, or upcoming
Huawei Ascend Mate
.