LG Optimus LTE with its 4.5" 720p HD screen might be coming to Canada as the LG Eye
10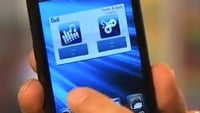 The
LG Optimus LTE
phone is the first retail unit with 720x1280 HD screen using a regular RGB matrix, but until now was a Korea-only device. Specswise, this is the Android phone that has it all - a dual-core 1.5GHz processor, 4.5" true HD display, and LTE connectivity to round the awesomeness up.
Now a promo video for The Source, a company owned by Bell Canada, which, by the way, has a 4G LTE network, has surfaced touting the specs of the LG Optimus LTE, which it keeps calling the
LG Eye
. Bell's own website also hints at an "LTE superphone" coming soon, so it's safe to assume that the phone with the biggest pixel density of 329ppi, without even using the PenTile matrix, will throw anchor near North American shores pretty soon. Now the only mystery left is if and when we will see it in the US.