LG's Optimus LTE monster phone goes official: 4.5" HD screen and 1.5GHz dual-core CPU
6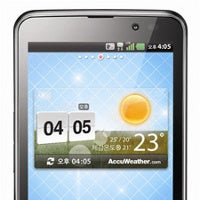 The
LG Optimus LTE
is a monster phone - with a 4.5-inch IPS display with 720 x 1280 pixels of HD beauty, a 1.5GHz dual-core processor and LTE (duh!), it's sure to make a splash wherever it launches. But sadly, it only launches in Korea, the battleground for latest Androids and the home of the Samsung Galaxy S II HD LTE.
The Optimus LTE is a direct competitor to Samsung's offer with specs screaming:
"everything you do, I can do better.
" Technically, the Optimus LTE has a slightly smaller screen than the 4.65-inch S II HD LTE, but that gives it
an advantage in pixel density
, which is estimated at the whopping 326ppi by LG.
The rest of the specs are nearly identical - 1.5GHz processors, 1GB of RAM Android 2.3 Gingerbread, LTE connectivity. The Optimus LTE ships with a total of 20GB of memory - 4 gigs of internal memory and a 16GB microSD card pre-installed. Connectivity is also perfectly well covered with an HDMI port, DLNA and the standard suite of wireless standards. There are two cameras on the handset - an 8-megapixel auto-focus one on the back and 1.3MP shooter up front.

The only thing that might spoil the fun?
Battery life
, of course. The 1,830mAh juicer might seem like a big battery for your average smartphone, but counting the humongous display, the clock speed of the processor, the amount of processing required for the resolution and the battery hog that is LTE, we're having bad feelings about this.
However, there's always the possibility that LG has baked in some magical ingredient to make it last through the day, and we're looking forward to this landing stateside. There's no certainty about that though - it may become the next LG Revolution (hopefully), but it could also turn out to be a Korea exclusive (hopefully not). It's going on sale in the Asian country this week for some $760 off contract.