LG Optimus G vs Samsung Galaxy S III: screen comparison
34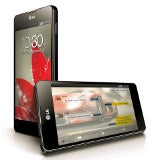 This story is sponsored by LG. PhoneArena's opinions in this article have not been affected in any way!
One of the things that can make or break the experience of using a smartphone nowadays is the screen, and these tend to come in many different kinds and implementations, as manufacturers try to come up with something new and unique for their handsets. Interestingly, screen technology also happens to be one of the major differentiating factors between two of the very best Android handsets right now - the
LG Optimus G
and the
Samsung Galaxy S III
. With the former using an advanced kind of LCD technology called True HD IPS Plus, and the latter - the so-called Super AMOLED, it is clear that what we're dealing with here are two exceptionally potent screens. With that in mind, we think it's completely possible to discover which one is the better of the two if we take the time to examine them closely. Let's do so right now!
Outdoor visibility
That doesn't mean that the Galaxy S III is hard to read when you're out and about. It actually performs well in this department, but when directly compared to LG's offering, it's visibly more washed out.
Colors
Of course, the same observations are valid for all colors, not just for the "whites". This is one area where IPS LCD screens have remained unbeatable. Sure, if you're only staring at the Super AMOLED panel of a Galaxy S III, you may even fail to notice the inaccurate temperature of the colors, and you might even like it this way, but it'll quickly become obvious that the Optimus G's IPS display produces the more accurate picture once you take a look at it.
Resolution
On paper, both handsets are almost equal in terms of resolution, or
pixel
density. However, there is an important difference, which makes the display of the LG Optimus G the better one in this category. While the GS III uses a PenTile pixel arrangement, the Optimus G sticks to a traditional RGB matrix. In short, equally sized displays of the same resolution would look better with an RGB matrix, because they'll have more subpixels. The result of this is that RGB displays appear finer and smoother, with less fuzziness. Both the LG Optimus G and Samsung Galaxy S III perform very well here, due to their high resolutions, but the Optimus G does have the upper hand, as its RGB matrix helps it achieve some cleaner-looking details compared to the GS III.
The main activities that benefit from this have to do with reading text. If you're working with documents, reading ebooks, or simply web browsing, you'll surely appreciate the more detailed display of the Optimus G. Other things, like watching video or viewing pics, don't suffer that much from the PenTile display.
Viewing angles
All in all, LG has proven that it's a serious innovator when it comes to display technology. The Optimus G is up there with the very best in this respect, boasting a high-definition screen with nicely saturated (but not too much) and realistic colors, along with reliable outdoor visibility and viewing angles. As good as the Super AMOLED technology of the Galaxy S III is, Samsung will have to think of something better than that if it wants to compete with LG's True HD IPS Plus tech.