LG Optimus G stars in a promo video, says no to limitations
18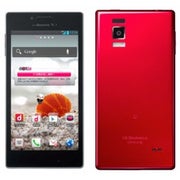 Now that the beastly
LG Optimus G has been announced officially
, it is time for the Korean company to build up some hype around it. And the logical step towards accomplishing that is to launch a teaser video online for all the world to see. In the short, 45-second video, LG touts its Optimus G flagship as a device that offers limitless possibilities and makes possible whatever users one thought was impossible.
Too bold of a statement? Perhaps not really as the LG Optimus G has the hardware to put the high-ends of its competitors to shame. Also, LG's smartphone is being promoted as the
"first of an all-new redesigned series"
suggesting that followups are indeed on their way. Now check out the video below and don't hesitate to tell us what you think about the LG Optimus G in the comments below!
Thanks for sending this in!