LG Nexus 5 service manual leaks bringing a treasure trove of information, including specs
81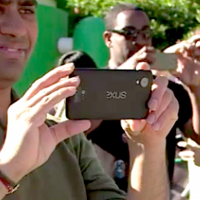 A draft of the service manual for the
LG Nexus 5
has leaked out revealing what could be the legitimate specs for the phone. The manual is made up of 281 pages including a diagram of the phone, which resembles a smaller
LG G2
without the buttons on the back. The rear of the phone matches what we saw on that
infamous picture taken the day that the KitKat statue was unveiled at the Googleplex
. The Nexus name looks like it does on the back of the
Nexus 7 (2013)
, except that it is oriented differently.
As usual when we pass along something of this magnitude to you, we ask that you use a skeptical eye when reading this. There are some reasons to think that this is not on the level such as the conflicting Bluetooth specs on pages 8 and 11. Still, there is nothing that stands out as being too ridiculous to believe specs-wise and the pictures and diagrams match up with what we have been expecting.
If you have nothing else to do on a Saturday night, all 281 pages of the manual are below, waiting for you to go through each and every page. If you don't have the time, you can check out the slideshow directly underneath the manual.
>
source: AndroidPolice via AndroidCentral

>