LG Mobile reports growth in Q3 sales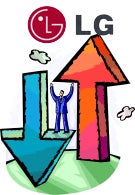 LG reported their financial results for the last quarter earlier today and they seem record breaking once again. Unlike Nokia, LG posted significant handset sales growth both on sequential and annual basis. The company announced total revenues grew by 21.9% to $3.75 bln. The sales generated by their cell phone division amounted to $3.53 bln. which translates to growth of 24.8% on year to year basis. Wow!
The manufacturer sold 31.6 mln. handsets in Q3, which was 6% increase on sequential basis and the stunning 37% surge as compared to Q3 2008. The company attributed the record growth to stronger sales across Europe and on the developing markets that managed to offset the decreasing volumes in the US and Korea. Operating profit amounted to $309 mln., while net profit decreased compared to Q2 2009. According to LG, two major factors had negative impact on the profitability - the increased demand for low-end cell phones and price erosion of mainstream and top-of-the-range devices.