LG K Series with "advanced camera technologies" now official; phones to be displayed at CES
32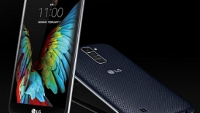 A press release disseminated today reveals that LG has officially announced two phones from its new K Series. The LG K10 and LG K7 will be displayed during CES, which kicks off officially on January 6th. The new line replaces the LG L Series, and features the manufacturer's new glossy pebble design. The two smartphones also include LG's new 2.5D arc glass.
LG says that the phone is focused on creating and viewing multimedia content. Some versions of the K10, for example, come with a 13MP rear camera and 8MP front-facing camera. LG calls the cameras on the handsets the "most advanced camera on a smartphone in this category." Several LG features are included with the phones such as Gesture Shot and Gesture Shot Interval. The former snaps a picture when you put an open hand in front of the screen and make a fist. Closing the hand twice snaps four quick shots using the Gesture Shot Interval feature. And both phones use a woven pattern on the back to keep the unit from slipping out of the user's hand.
The LG K10 offers a 5.3-inch In-cell display with a 720 x 1280 HD resolution. The LTE version of the phone is powered by a quad-core 1.2GHz or 1.3GHz CPU. The 3G model features a quad-core 1.3GHz CPU. There will be three variants with 2GB of RAM, 1.5GB of RAM and 1GB of RAM. The handsets are available with 16GB or 8GB of ROM. The camera combos available with the LTE model are 13MP/8MP and 13MP/5MP. The 3G model carries an 8MP rear-facing camera and an 8MP front-facing camera. A 2300mAh battery keeps the lights on, and the phone will be offered in White, Indigo and Gold. It measures 8.8mm thick.
The LG K7 is equipped with a 5-inch 480 x 854 resolution display. The LTE variant of the phone comes with a quad-core 1.1GHz CPU while the 3G model is driven by a quad-core 1.3GHz CPU. The phone can be bought carrying 1.5GB of RAM inside with 16GB of ROM, or 1GB of RAM with 8GB of ROM. The LG K7 offers an 8MP or 5MP rear-facing camera, and a 5MP front-facing snapper. A 2125mAh battery keeps the generator humming, and the color options are Titan (LTE), and White, Black and Gold (3G). Lastly, the LTE model of the K7 is 8.9mm thick while the 3G variant is 9.05mm thick.
The phones will be on display at CES, where we hope to find out the pricing and launch schedule for both the LG K10 and LG K7.
source: LG