LG G7 ThinQ vs Galaxy S9 vs LG G6 vs LG V30S: Preliminary selfie comparison
17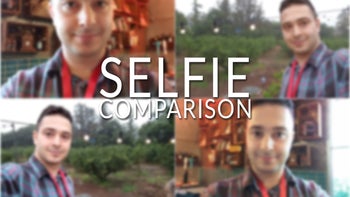 LG's latest flagship device, the G7 ThinQ, was just yesterday announced and is bound to take off the forerunner mantle from the LG G6. With top-notch hardware inside and overall design that feels quite fitting for 2018, the device is undoubtedly and naturally LG's best phones to date.
As all devices these days are mostly the same and do similarly good job at almost all of their main features, one of the few truly defining aspects of a good phone remains its camera. Any phone lets you access Facebook and play Candy Crush Saga, but you wouldn't necessarily want to share photos takes with certain devices on social media, that's for certain.
So how does this cornerstone of the LG G7 ThinQ perform? We already showed you the first camera samples from a pre-production unit compared with the device and it's now time to show you how good the selfie camera is. Once again, we will be comparing a pre-production LG G7 ThinQ with the Galaxy S9, LG G6, and the LG V30.
Disclaimer

: The LG G7 that was used to take the photos featured in this material is a pre-production unit. The software running on this device, including the camera and photo processing software, is not final.
Scene #1
This tricky scenario aims to show us how the different devices handle wider dynamic ranges with big discrepancies between the highlights and the shadows in the image. In this particular one, the side of Nick T's face is being illuminated by a strong light that burns out all detail and doesn't look particularly good. Let's see how our jolly bunch copes with that:
Scene #2

In this scene, we've aimed to show the devices' performance with a strongly backlit subject, in contre-jour. In the ideal case scenario, without any HDR present, the cameras should overblow all the highlights in the background with the hopes of properly exposing the subject's face, but let's see how LG G7 & Co are coping with that:



Scene #3
Normally, the great outdoors could be a tricky setup for selfies, as the various lighting conditions throughout the day could widely affect the cameras' ability to properly expose the subject and capture it in a favorable way.