Switch to the G7 ThinQ if your phone is slow, says LG (helped by Aubrey Plaza)
15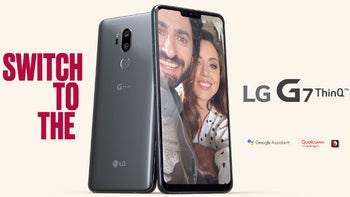 LG today released a video commercial promoting the
G7 ThinQ
, one of the company's newest high-end smartphones. The commercial - embedded below - introduces us to a smartphone user named Ryan, who complains that his (unidentified) handset is "so slow."
Despite clearly being unhappy with his current phone, Ryan is not convinced he should get a new one, suggesting that perhaps a celebrity would make him reconsider. Then, out of nowhere, comes comedian and actress Aubrey Plaza (whom you may know from the sitcom Parks and Recreations), telling our hero to switch to the LG
G7 ThinQ
. But Ryan weirdly says
nah, I'm good
, thus prompting Aubrey Plaza to take a more extreme approach in trying to make him switch. The two end up taking a selfie on the G7, with Ryan being surprised that this can be done just by voice command.
Thanks to features like Qualcomm's Snapdragon 845 processor, 4 GB of RAM, and Android Oreo, the G7 ThinQ is certainly a fast handset. But the same can easily be said about most other high-end smartphones of 2018, and even 2017, so the G7 is not exactly in a unique position here. Furthermore, selfies by voice command is not something unique, either (you can, for example, do a similar thing on Samsung's
Galaxy S9
).
In the US, the LG G7 ThinQ is currently available on Verizon, T-Mobile, Sprint, and US Cellular. AT&T won't be carrying the G7, as it's offering the
LG V35 ThinQ
instead.
Assuming you're in the market for a new smartphone, does LG's latest G7 ThinQ commercial make you want to get this handset?