LG G5 vs Sony Xperia Z5: first look
11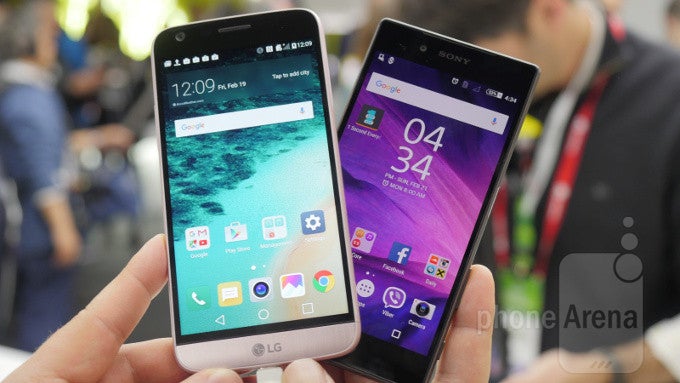 The new LG G5 is a radical redesign with its innovative modular design, and while we're at MWC 2016, we took the opportunity to quickly compare LG's latest and greatest phone against Sony's current flagship, the Xperia Z5.
Both are similar in size, but very different in design and function. Join us as we explore their differences in further depth below.
Design and display
First, let's talk size and design. The 5.3" LG G5 and 5.2" Sony Xperia Z5 hit a sweet spot in terms of size: neither too big, nor too small, pocketable yet with a fairly large display. Both feel premium and well-made: the G5 has a metal body that feels sturdy, while the Z5 has a matte black back that also looks quite unique.
The actual forms of the two, however, do make a difference: the LG G5's more rounded edges make way more comfortable in the pocket and in hand, while the sharp edges of the Xperia Z5 might look good, but are not very practical. In terms of pure size, the G5 is slighty wider and taller, while both are similarly thin at 7.3mm.
Both have IPS LCD screens: a 5.3" Quad HD (1440 x 2560 pixels) one on the G5 and a 5.2" Full HD (1080 x 1920 pixels) on the Z5. The G5 is obviously sharper, but we find the Z5 sufficiently sharp-looking as well and the difference is only visible when you make it a point to stare at the screen from unnaturally close distances.
LG uses a neat trick to light up just parts of the screen and provide what it calls Always-on Display mode that shows you the time and missed notifications. It's a cool trick, but it consumes around 0.8% of battery every hour and this works out to nearly 20% a day, which is a considerable drain.
Performance and storage
With the Snapdragon 820 system chip on board, the LG G5 is an absolute monster. We saw it crush various benchmarks and emerge as the fastest phone we have ever tested on AnTuTu. Now, this is something that nerds might lust after, but in reality, it is the everyday performance that really matters and in that regard we find both phones are similarly zippy. The Xperia Z5 runs on the Snapdragon 810 system chip, which also seems sufficiently fast for its needs.
The difference in chips will be more important to gamers and those who do some photo and video editing on their phones, though. In those aspects, the LG G5 does feel faster.
In terms of storage, we're happy to see LG continue with its tradition to use 32GB of storage that is also expandable via microSD cards on the G5. The Xperia Z5 also has 32 gigs of on board that can be augmented via microSD cards.
Camera
The LG G5 promises further improvements in camera quality and after the outstanding camera experience on the G5 and V10, there's no reason to doubt LG. The G5 features a few tricks, though: its main, rear positioned camera is a 16MP module, but in addition to that there is also a second, 8MP sensor that captures super wide-angle shots similar to a GoPro. The support for a camera grip module with extra battery that you can plug into the G5 makes it an even more advanced camera and adds separate shutter keys and even a dial to zoom in smoothly. LG has also included some clever effects that you can apply to your images.
The Xperia Z5, on the other hand, sports a 23MP camera with one of the largest camera sensors of any phone: a 1/2.3" size. Put simply, a larger sensor is key to getting better images, and the Z5 has it. The main cameras on both phones support 4K video recording at 30fps.
For selfies, there's an 8MP camera on the G5 and a 5MP shooter on the Xperia Z5. We're yet to compare the actual images from the two, but stay tuned to our coverage for more details on that.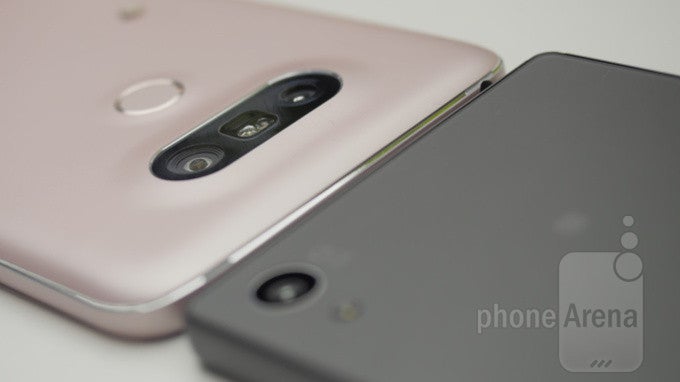 Battery
The LG G5's modular design allows users to swap batteries easily in seconds, but what about the actual battery size and capacity of the battery? It's a 2,800mAh unit and that seems below the average for the G5's screen size. It's not bad per se, but we can't expect wonders from such a relatively small cell, especially given the extra load on the battery that comes with Always-on Display.
Then, there is the Xperia Z5 with its 2,900mAh has a bit more to offer in the battery life department. Despite not having any fancy quick swap features, the handset's 2900 mAh battery easily lasts a day and a half with moderate usage, plus it has an amazing stand-by time – it loses almost no percentage points during the night.
Expectations
We're curious to see how LG's radical new modular design will be accepted. At first sight, it looks like a niche feature rather than something that everyone will care about. Still, the phone on its own is very good: it looks stylish with that new metal body, features a camera with quite a few new tricks up its sleeve and - finally! - a fingerprint scanner. It also has screaming fast chip and the promise to perform well in demanding tasks. However, battery life, one of the key requirements by users could disappoint and we don't know whether the hot swap battery option is necessarily a solution.
The Xperia Z5 is solid on its own, but it lacks that flare that the G5 seems to have in abundance. Its interface is a bit mundane and its edgy design looks good, but is not super comfortable. All in all, these are two good options that will have to fight hard to find relevance in an increasingly competitive phone market.