LG G4 vs Sony Xperia Z3: first look
15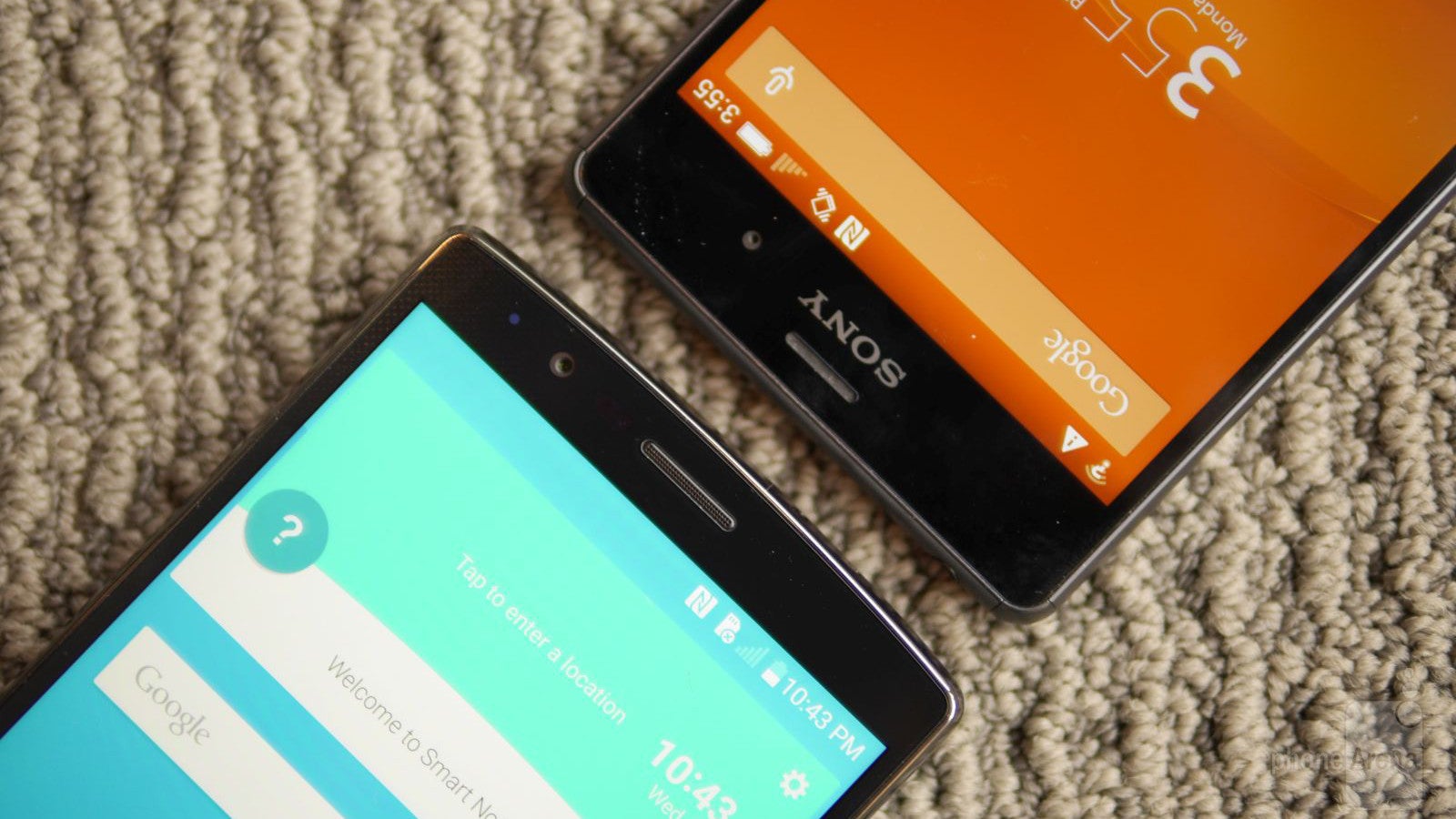 Well, folks –
it's here
– LG's new ceramic-finished or leather-clad flagship. Toting the same thin bezel that the company has been famous for since the release of the
G2
, combined with the arched build that's been borrowed from the
G Flex
and
G Flex 2
, and, of course, the rather unique materials used in its build – surely enough, the
LG G4
is, if nothing else, one of the more unique smartphones that we've seen so far in 2015. So, how does it stack up against the competition? In this issue of First look – let's pit it against the slightly aged, but still classy,
Sony Xperia Z3
.
Design
The Xperia Z3 sports the very materials in its design that LG refers to as cliché and cold – a metal frame, sandwiched between two glass panels to form a body with a non-removable battery. Even so, we still appreciate Sony's minimalistic rectangular Omni-Balance design, softened with its rounded-off edges, which feel good in the hand and still look premium. The G4, however brings a few unique touches to the table – an arched body, which should fit better in the user's hand, a very generous screen-to-body ratio, and, of course, a back made of either ceramic finish or stylish leather. The G4 also retains the tradition of having a removable and user-replaceable battery.
Display
Sony is yet firm in its decision to not cross over to QHD land with its flagships, keeping the maximum resolution it would go to pinned at 1080 x 1920 pixels. Still, with the Xperia's 5.2" display, this results in a 424 PPI density, which is rather crisp and users should not be able to discern individual pixels, even from up close.
LG, on the other hand, was first to sell a QHD (1440 x 2560) display-equipped smartphone worldwide (the
LG G3
), and, naturally, stays true to the cause it helped pioneer – the G4 still rocks the super-crisp resolution, stretched across a 5.5" screen, which results in the sharp 538 PPI density. LG says the G4 is equipped with a new tech, dubbed Quantum Display, which should bring better, life-like colors to the user.
While it's a bit early to cast final judgment, we'd say that the G4 wins out by numbers.
Interface
Sony was never too heavy on features, keeping its interface simple and snappy – something that a lot of users can appreciate. The Xperia Z3 has been updated to Android 5 Lollipop, but Sony is in no hurry to go "flat" with its aesthetics it seems, as it has largely kept the skeumorphic looks if the Xperia interface.
LG, on the other hand, was among the first to go "flat" – some would even say that the LG UI did it "before it was cool". It was also one of the heavier interfaces – in league with Samsung's TouchWiz, even. Well, the company calls its interface for the G4 "human-centric", removing clutter and unneeded steps in various processes, and adding a few improvements to better organize events, notifications, photos, together with a camera quick-snap function.
Feature-wise – you can be sure that the G4 is more packed.
Processor and Memory
The Xperia Z3 rocks the somewhat aging, but still quite potent Snapdragon 801 – the SoC of choice for most of last year's flagships, and with good reason. Sporting 4 cores, clocked at 2,5 GHz, and coupled with the generous 3 GB of RAM, the Xperia Z3 still performs without a hitch.
The LG G4 will come with the Snapdragon 808 – a hexacore SoC, which some speculate is an alternative to the Snapdragon 810, needed due to heating issues with the latter. The 808 is still a young and unknown breed, though, Qualcomm says it's the perfect choice for the G4, with a X10 LTE modem, Adreno 418 GPU (which Qualcomm says it has designed specifically for the G4's demanding QHD display), and energy-saving capabilities, which can keep the lights on 20% longer than the LG G3 can. Memory-wise, the phone also has 3 GB of RAM.
Camera
Sony's Xperias, naturally, rock homemade sensors, and the one on the Xperia Z3 is no exception. Sporting a 20.7 MP snapper with an F2.0 aperture on its back, and a 2.2 MP shooter on the front, the Z3 looks like it has a potent camera on paper. However, experience with the phone has shown us that it's not as stellar as we might expect – while the Xperia Z3 makes good photos, it is easily outdone by a lot of competitors' flagships.
The G4 has a homebrew 16 MP camera with the impressive aperture of F1.8, assisted by OIS 2.0 (stabilization that works in the x, y, and z planes), and a Color Spectrum Sensor – a build on the G3's laser autofocus sensor, which should now help the camera discern between light and objects in a scene, allowing for faster focus and better luminance.
The selife shooter if the G4 is nothing to smirk at, too, sporting an 8 MP sensor, with an F2.0 aperture – sounds promising!
Expectations
In closing – the G4 definitely looks like a contender in the 2015 flagship playing field – while its processor may be a bit dodgy, we'll wait to put it through its paces, before casting judgment. However, in terms of camera, display, and design – LG is in the game. The Xperia Z3 is not too far behind it, though, so owners of Sony's flagship need not hurry to upgrade – it still has a lot of juice left in it.