LG G3 gets stripped of its back cover, flashes a detachable battery and microSD slot
41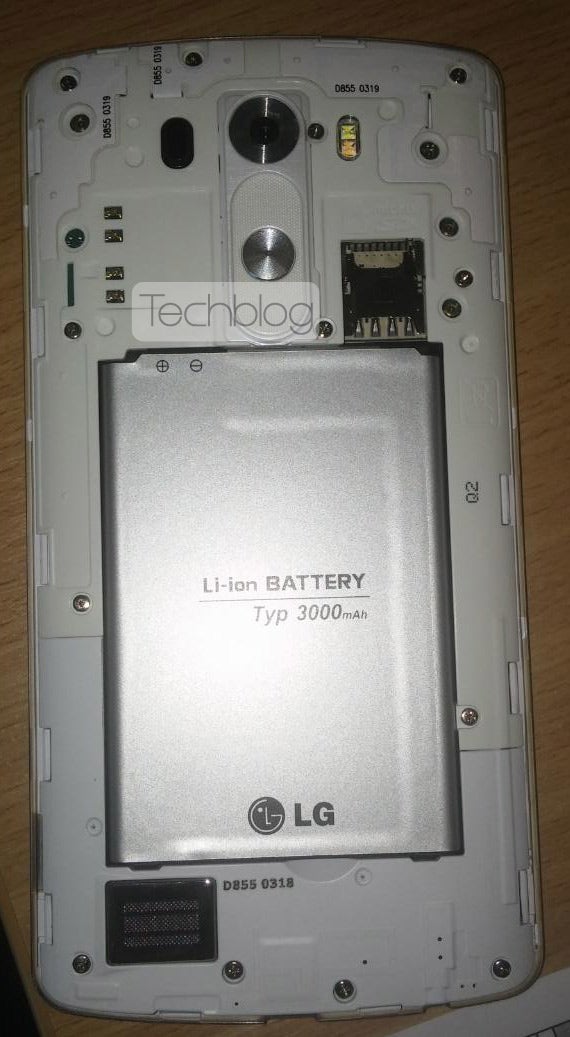 The
LG G3
is shaping up to be one monstrous device, not only on account of the 5.5" Quad HD display, but also in terms of chassis design and versatility. Apart from a good screen-to-body ratio, it will apparently feature a removable back cover, swappable 3000 mAh battery, and a microSD slot for storage expansion.
The last two were missing from the international version of its predecessor, the
G2
, which irked some of its users. The
G3 for T-Mobile (D851), however, that leaked yesterday
, clearly shows a detachable battery unit. Today, we are getting another leak, this time picturing a full rear exposure of the G3, and for the first time it's with the back cover removed, exposing what's under the hood. The insignia at the upper right part shows that it's the D855 version, which will likely grace European markets. Thankfully, this one will evidently also sport a swappable 3000 mAh battery, and a microSD slot for internal memory expansion, so these niceties will likely comes standard with any G3 model.
Long story short, it's now very probable that we are looking at a 5.5-inch IPS display with 1,440 x 2,560 pixels, a quad-core Snapdragon 801 processor, 3 GB of RAM, 16/32 GB of storage space, a 13 MP OIS+ rear camera with laser autofocus assist, microSD card support, and a removable 3,000 mAh battery. This puppy should also be running Android 4.4 KitKat, and feature a revamped, minimalistic interface, so we can't wait to put our grubby mitts on LG's finest, and put it through the review paces.