LG G3 QuickCircle Case and interface: a closer look
9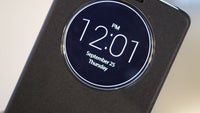 Soon after the official unveiling of the LG G3 smartphone, we got up close and personal with one of its accessories – the QuickCircle Case. Designed by LG itself, the case's primary function is to keep the flagship's gorgeous display safe from harm, while the circular opening in the front allows one to interact with the G3 without having to lift the cover. The latter is possible thanks to the special UI that pops up when the lid is down. It provides quick access to a number of the phone's core features, including messaging and phone calls, its camera and music player. Time and weather data can be accessed as well, all with the cover closed. Neat, huh?
At the same time, the LG G3 QuickCircle Case adds minimum weight and bulk. To snap it on, one has to remove the G3's back cover, and the accessory is attached in its place. Furthermore, the QuickCircle Case makes charging the G3 wirelessly possible with its built-in coil. The earpiece cut-out enables us to have a normal phone conversation without having to fold the case's cover around the back. A hole for the RGB notification light has not been forgotten either.
We wish we could tell you how much one of these is going to cost, but pricing has not been disclosed yet. What we can tell you, on the other hand, is that the QuickCircle Case will be available in five colors: Silk White, Metallic Black, Shine Gold, Indian Pink, and Aqua Mint.