LG G2 vs Samsung Galaxy S4: first look
18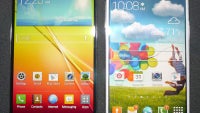 This story is sponsored by LG. PhoneArena's opinions in this article have not been affected in any way!

This is it - the ultimate Korean clash - the LG G2 is going up against its neighbor, and rival, the Samsung Galaxy S4! OK, the enthusiasm is probably a bit too high here, considering that we've only been able to play with the G2 for a few minutes thus far, and, in that line of thought, this probably isn't the ultimate Korean clash, but anyway, we can still present you with a quick comparison between these two capable handsets so you can get a basic idea of how they are going to stack up against each other, once the G2 enters the market later this year.
Both smartphones are, without a doubt, true engineering achievements, as both are remarkably thin and compact for their sizes. The Galaxy S4 is probably the 5-incher with the smallest footprint right now, but it's mind-boggling how LG has managed to produce a handset that is almost as small, but packing a larger, 5.2" screen at the same time. With those extremely narrow bezels, the LG G2 is almost as compact and easy to hold as the Galaxy S4, and that's definitely no small feat. It's worth noting, however, that the G2 is a bit heavier at 143 grams (5.04 oz), compared to 130 g (4.59 oz) for the Galaxy S4.
Another interesting design difference, which would actually be valid no matter which handset we compare the G2 to, is the positioning of the physical keys. While the Galaxy S4 has those keys (power/lock one and volume rocker) at their standard locations on the right and left sides, respectively, the LG G2 is the first phone to have those keys placed on its back, right below the camera. Yep, that's where you'll find the G2's power/lock and volume buttons. According to LG, that makes for a much more natural placement of those buttons, but of course, we'll have to play some more with the handset in order to see if this position works better than the traditional one or not.
In terms of their displays, these guys couldn't be any more different. On one hand, LG is sticking to the IPS LCD technology with True 1080p resolution. We say 'true', because LG's screen utilizes a standard RGB matrix that has a complete set of red, green and blue subpixels, making for an overall denser and cleaner image compared to the Galaxy S4's 1080p screen, which is based on a PenTile pixel matrix. Still, at such high resolutions, you have to look really, really, reeeeeallyyy closely, in order to notice a difference with regards to image clarity. S, on the other hand, we have the GS4 and its AMOLED screen, which has its pros and cons, compared to LG's IPS technology. In short, Samsung's screen can display an incredibly vivid and high-contrast image, but at the same time, you can expect colors to be more accurate on the G2, while brightness and outdoor visibility will undoubtedly be significantly better on LG's device.
Moving on to the software part, both companies are offering heavily customized versions of Android 4.2, with a lot of extra features, many of which most people will probably never use. If you like to experiment with such features, the Galaxy S4 may prove to be the richer playground, as Samsung has really outdone itself in this respect, though the LG will definitely not leave you bored as well. Of particular interest in the G2 is the new Guest Mode, which does exactly what it says - it allows you to have a kind of a 'guest' account, if you want to give the phone to someone (friend, kid), but don't want to expose all of its functions or content to them. Meanwhile, the GS4 has Samsung's numerous S-branded offerings, like S Health, S Note, S Memo and so on. At this point, we can't really say which handset sports the better experience - it's mostly a matter of personal preference. Of course, we'll do our best to go into more detail once have the time to compare the two smartphones properly.
At the end of the day, we obviously have two spectacular smartphones here that can easily go toe to toe with each other. The LG G2 will have the advantage of the bigger screen and faster chipset, thanks to the Snapdragon 800 that's found inside, but the GS4 remains a very strong all-round performer that will not step aside so easily.