LG G2 for Korea has microSD card slot, removable battery
19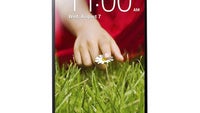 Prior to the
official LG G2 announcement,
the general assumption was that the smartphone would sport a removable battery and a microSD card slot, both located behind the device's removable cover. This speculation was fueled by the
leaked LG G2 user manual
, which contained images clearly depicting these features. But then "
LG G2 day
" came and went. We got
our hands on the LG G2 smartphone
only to discover that a microSD card slot was nowhere to be found. Also, the battery was sealed behind the non-removable back cover.
So what exactly happened with the LG G2 and the microSD card slot we were expecting? Well, that's a perk reserved for Korean buyers, as it now turns out.
The Korean LG G2 variant has a removable back cover
, behind which are situated its user-replaceable battery and its microSD card slot for storage expansion. However, several trade-offs have been made in order to allow these features to be available. First of all, its battery has a capacity of 2610mAh versus the 3000mAh cell found inside the US-bound LG G2. In addition, the LG G2 sold in Korea will be thicker, albeit only by a quarter of a millimeter.
Long story short, users of the international
LG G2
will have no microSD card slot at their disposal, but in exchange will get a battery that's 15% larger. Now feel free to check out an unboxing video showing the Korean LG G2 handset.