LG G2 for AT&T hands-on
8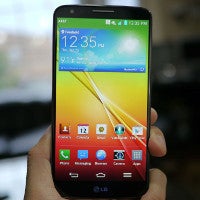 Wow, has it seriously been over a month now since we first laid our eyes (and hands) on the LG G2? Yes, it has been that long already, and as you folks have probably seen, we've given it the full review treatment – as well as some handy dandy comparisons against some of the other flagship devices in the space right now. Here in the US, LG's flagship smartphone for 2013 is starting to make its rounds with the major wireless carriers in the country, so we're getting our first look at AT&T's version to be exact.
Now, there's not a whole lot new here people, seeing that it naturally follows closely to the international model that we reviewed. At its core, the design follows firmly to what we've seen already – albeit, since it's an AT&T offering, the only noticeably different thing with its design is the prominent AT&T logo in the rear. And that's pretty much the only thing new here with the handset's design. Sporting the same plastic chassis as the international model, it's nice that the LG G2 boasts all of the design elements to keep it in good light with its rivals – like its super thin profile, minimal bezels around the display, and a lightweight figure. Still, the overall design doesn't scream anything particularly new or fresh, but at least it still has a pleasantness to it.
We're not going to go into too much detail over the new software experience on the LG G2, since we've covered it extensively already in our review, but seeing that this is AT&T version, it no doubt is sees it share of the usual AT&T branded apps right out of the box. Certainly, some people will view them as bloatware, but others might take fancy in them – due to their integration with AT&T's popular services. As for the performance, it's simply a beast of a phone, thanks to its mighty 2.26GHz quad-core Qualcomm Snapdragon 800 processor with 2GB of RAM. Everything is accompanied with that tight response, which helps to give the handset a considerable amount of snappiness.
For those wondering, the LG G2 for AT&T is now available for purchase at $199.99 with a 2-year agreement. Check out the video below to get a quick hands-on look at this beauty of a smartphone!
LG G2 for AT&T hands-on photos